Artificial Turf Will Reduce Your Garden Maintenance
People who live in apartments will tell you that one of the benefits is not having to worry about gardening. We as a society are become busier….working longer hours, spending more time commuting thanks to increased traffic congestion, going out more thanks to social media keeping us in the loop better, the list goes on. So it's no suprise that we lack the energy, or time, to do lots of work around the house.
A garden can be a masterpiece for many homeowners but to others, it can be another chore generator. Mowing the lawn is regularly listed as one of the chores people would most love to avoid. If you're one of these people, why not look to swap your fast growing grass for an artificial lawn. Not only are they low maintenance, wait I should say NO maintenance, but they also come in a range of designs that look real!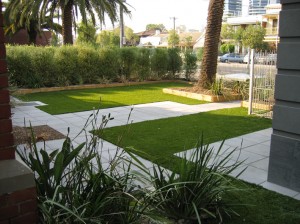 Artifical turf (or fake grass as it is also known) can be perfect for gardens of any size, as well as nature strips, pool surrounds and even apartment balconies. They are soft, stain resistant, and made with a hybrid emulsion that prevents deterioration.
Recommended fake grass suppliers:
Newturf – Melbourne's premiere supplier of artificial grass and has an array of styles including Tru Lawn Cool Plus, which is actually 20% cooler on the feet. Perfect in those scorching Melbourne summers. They also professionally install all their grasses, cut to the exact size you want.
Rock & Stone – With a store in Malvern and one in Sorrento, these guys not only sell garden supplies such as pavers, tiles, pebbles and rocks, perfect to accompany your outdoor grass. They also offer a range of great garden furniture.
Always Perfect Grass – Residential, school and commercial suppliers. If you want a green, fresh looking backyard but don't have time to look after it, here's your answer.