Melbourne Magic Festival Celebrates Milestone
No it's not an illusion. This month, the Melbourne Magic Festival turns 10 years old! It still may not be old enough to vote but it's definitely old enough to put on a great magic show or two!
From humble beginnings a decade ago, the annual event has grown in size every year, and now features in excess of 60 Australian magicians, as well as several from overseas (yes a lot of them come for the restaurants!)
The performers will begin to display their talents from July 3 at Northcote Town Hall and cease their artistry promptly on July 15. Amongst the festivities a number of them will surely be enjoying Estelle Bistro on High Street for some upscale bistro dining in a swanky setup.
In 2015, the festival got widespread media attention thanks to crazy American Wayne Houchin, who decided to hang upside down by his feet from a crane. If that wasn't crazy enough, the crane was 100 feet in the air – and he was escaping from a straight jacket at the time!

Some of the international magicians this year include Dani Da Ortiz (Spain), E G Lee (South Korea) and Joshua Jay (Murica!)
But we are shining a spotlight on a couple of local stars, who's shows promise to entertain.
'The Confidence Artist' is veteran magician Nicholas J Johnson's 2017 show, which focuses on why people still fall for the oldest tricks in the book. Find out if humans are just plain stupid and learn some tricks you can use on your friends at a later date!
"Magicians don't often get to work with each other", Johnson told us, "and so it's a pleasure to be able to join together to create magic as a team".
Known throughout the industry as the "honest conman", Johnson has been performing magic for over 2 decades, showing audiences how tricks work. He regularly performs to corporate companies and schools, uncovering the secret of how to cheat, lie and swindle (as if big business and students didn't already know how to do that).
For the younger fans of magic, you might want to check out Tim Credible. He is one of Melbourne's most popular children's entertainers and with sidekicks such as Ace the Party Poodle and Douzie the Dragon, how could he not be?
Performing his own magic school, Tim has come a long way from his days entertaining the ladies at Bridie O'Reilleys on a Saturday night with his coin tricks in the 90s.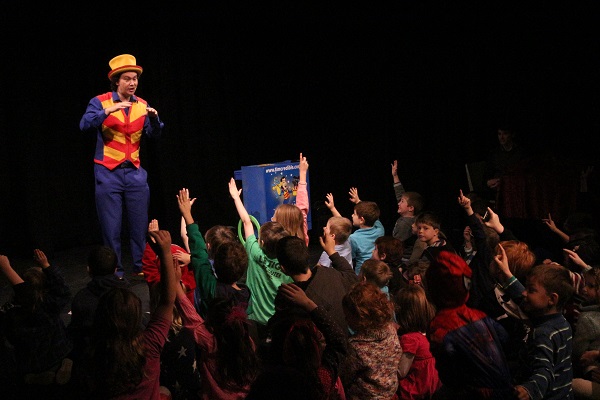 His interactive magic is fun for the whole family and will teach people of all ages how to perform their own magic tricks.
So head down to Northcote Town Hall this July and experience some magicifient entertainment!